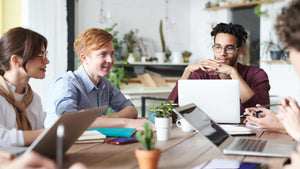 OUR STORY
Just like every idea, we started with the question, "Why?" Why is the environment suffering? Why aren't we, as a species, trying to better preserve the world we live in? Being in the paper industry for over 20 years, we realised that we were also contributing to the problem. We realised it was time for a change.
Traditional paper has been made from new wood pulp for centuries, resulting in mass deforestation and almost irreversible damage to our planet. Why does paper have to be made from wood? This was the question that led us to the path we are on today: stone paper.
We 3 brothers, Kane, Keiv, and Rhys, are embarking on a journey that will hopefully leave a positive mark on our world! That's the hope, at least.
WHY STONE PAPER?
While looking into alternatives for traditional paper, we discovered something as interesting as it is strange! Stone paper? As in paper made from stone? Sounds strange, doesn't it?
Stone paper is not only a great alternative, it is the best alternative (that we currently know of). It is made from limestone, an abundant construction waste. We crush the limestone into a powder (calcium carbonate) and add a binding material that holds it all together!
Here's why we love stone paper:
• Tree-free 🌲
• Eco-friendly & Sustainable 🌎
• No water used when producing the paper 💧
• No bleaches or acids added ⛔
• 60% lower CO2 emissions ☁️
• Made from recycled materials ♻️
• Infinitely smoother to write on ✍️
• • • •
GIVING BACK
We founded Etched not only to make a difference to the environment, but to also give back and support our community.
We donate four percent of our net profits to these four charities:
🎗️ Cancer | American Cancer Society
💧 Water | Charity: Water
🌏 Environment | Global Footprint Network
🐘 Protect Animals | Humane Society
The four dots represent the four percent we donate, as well as the four charities you are supporting with your order. It's a subtle, yet powerful reminder that your choices can make a difference in the world.
Read more about how we give back here